I'm not that into carbs. The only carbs I'd eat usually are veggies or the occasional pasta dish..or dark chocolate if you count that in as carbs. I love medium rare steak, chicken strips, pork bbq, ribs and everything that screams CARNIVORE. (<–reason why I can't be vegan when it comes to food. Belated Happy Vegan Day btw.) But if there's one thing that will make me eat a bunch of carbs, it's Garlic Rice. It tastes soooo good that my mouth waters while I'm typing this blog post.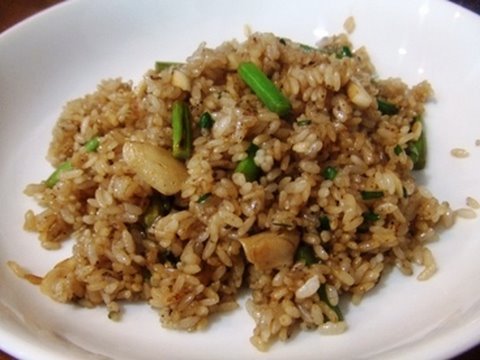 I plan on getting a "real" wok to cook this stuff. I'm currently using a non stick wok that just doesn't seem to work the way I want it too.
As much as I like cooking this, it stinks up the house and the smell lingers for awhile (a few days) even after I spray the whole house with air fresheners. That's why I rarely cook this dish. However, I think this problem is about to come to an end. I will be testing a room spray formula tomorrow and if it effectively eliminates the garlic smell among other smells, it'll be added to our Home Fragrance line. I'm very excited about this.  Will update you guys on the results.
One Response to "Garlic Rice"