I'm not that into carbs. The only carbs I'd eat usually are veggies or the occasional pasta dish..or dark chocolate if you count that in as carbs. I love medium rare steak, chicken strips, pork bbq, ribs and everything that screams CARNIVORE. (<–reason why I can't be vegan when it comes to food. Belated Happy Vegan Day btw.) But if there's one thing that will make me eat a bunch of carbs, it's Garlic Rice. It tastes soooo good that my mouth waters while I'm typing this blog post.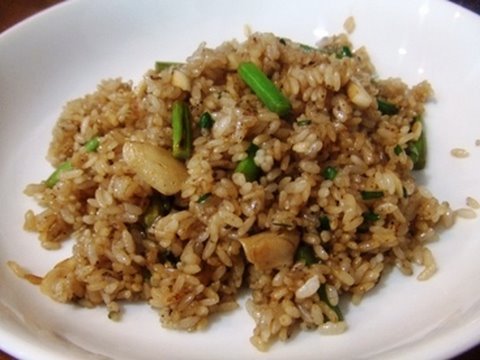 I plan on getting a "real" wok to cook this stuff. I'm currently using a non stick wok that just doesn't seem to work the way I want it too.
As much as I like cooking this, it stinks up the house and the smell lingers for awhile (a few days) even after I spray the whole house with air fresheners. That's why I rarely cook this dish. However, I think this problem is about to come to an end. I will be testing a room spray formula tomorrow and if it effectively eliminates the garlic smell among other smells, it'll be added to our Home Fragrance line. I'm very excited about this.  Will update you guys on the results.
It's almost Halloween and I've been eating a bunch of candy corn..chocolate candy corn to be specific.Sinful confectionery goodness.
Anyway, this is just a quick update on everyone who requested for Candy Corn soap and other halloween goodies. Jace and I have been really busy and we didn't have much time to come up with a really nice candy corn smelling soap. I've tested two batches, but they weren't good enough for me.  They just seemed plain. Maybe next year we'll have some cool Halloween themed soap and stuff. Not to worry, we're considering most of your holiday requests and we'll be posting more products and more scent options on our site very very soon. We've been fixing bugs on the site especially the shipping module. If you encounter any problem with the site or see a typo or whatever, let me know so I can fix it. Also for everyone who's been requesting for Twilight inspired products, I'm working on that and I am still considering adding that to our limited edition line in the future. I'm not promising anything, but I'm trying to come up with a cool design for the soap and I'm still on the search for the perfect scent to match. Plus I'm a huge Harry Potter fan so yeah..hehehehe Anyway, that's all for this quick update. Off to watch DWTS and Gossip Girl tonight!!
Smiles!
~xoxo Therese Martin
…what links them both?  B-E-E-R!!
Dad's birthday was on the 16th and I didn't get to send him a present. But I will very soon.
Since he has been refraining from drinking too much beer due to having elevated liver enzymes in the past and it's October, I thought why not make something that's close enough to beer?And that's exactly what I did.
I just made some BEER SOAP!!!!
…..and my house smells divine!
I was planning on sending him soap made with real beer, but that didn't turn out the way I wanted it to be. Saponification pretty much killed the "beer smell" and left it with a strong wheat/barley like aroma, which is normal for soap made from real beer. But where's the fun in that? So I decided to make soap that smelled like the real deal, instead of making it with the real stuff and so far I am loving the results. I still have to wait a day or two til I can cut this stuff and try it out, and if it turns out awesome, I'm sending a package to dad and it will be available in our site as one of our limited edition soaps. You're probably wondering, why would I want to smell like beer? Well you have to try the soap to find out. The scent is more like fun clean freshly brewed beer rather than a gross drunk man. I'm quite excited for this mini project. I'll probably need to do this again since these will make unique Christmas presents. Anyway, that's all for this update.
Good Night!
~xoxo Therese